Mission and Purpose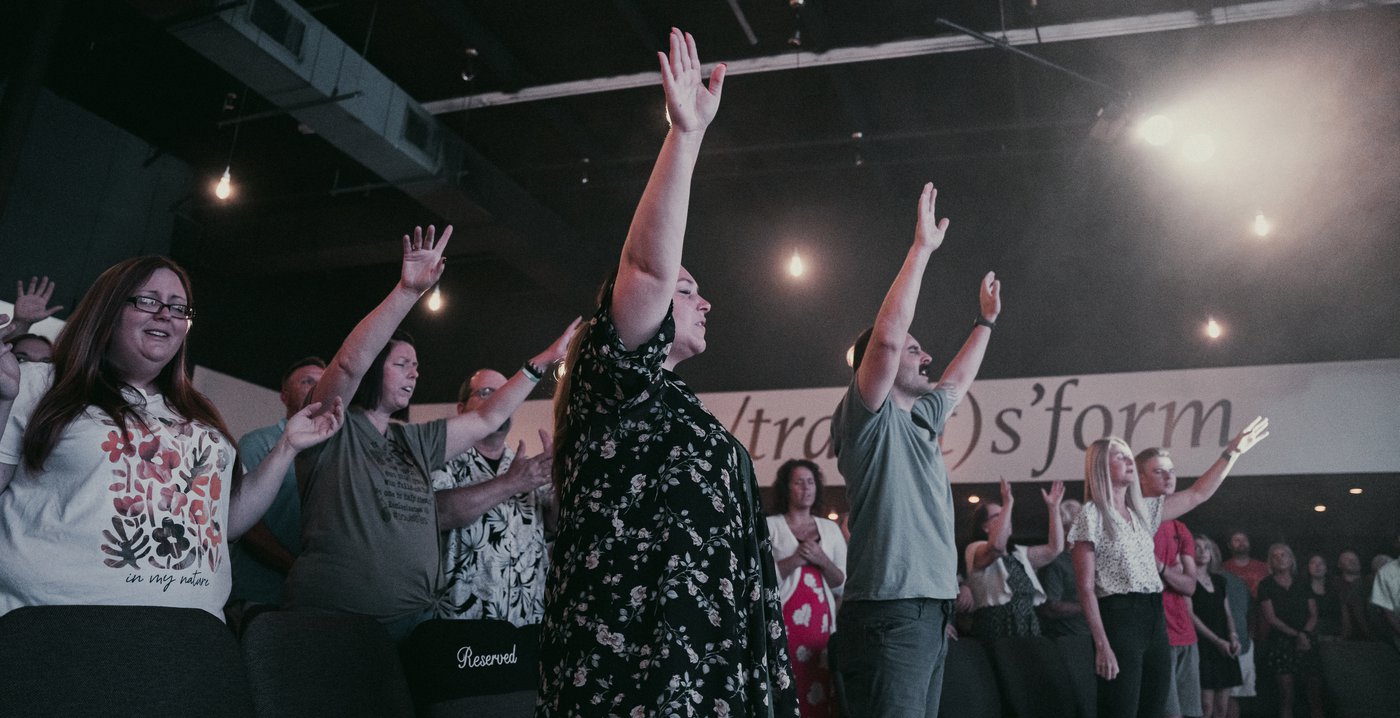 Mission
Destiny Church exists to see all people experience transformation through Gods presence, be discipled in community, and equipped to reach the world!
‍
Purpose
Pursue God, Grow Together, Make a Difference.
---
Core Values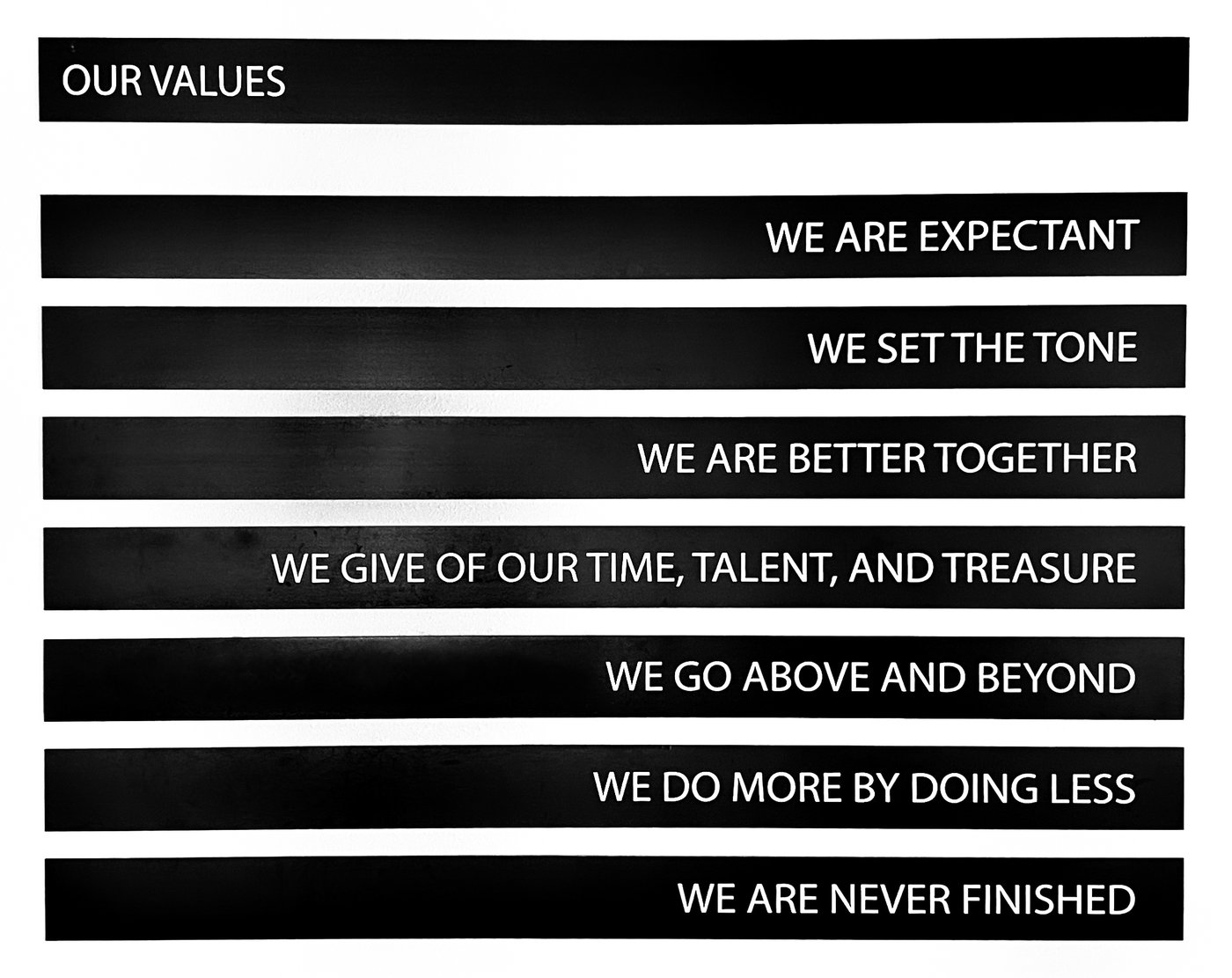 WE ARE EXPECTANT
Acts 3:3-5 NIV "When he saw Peter and John about to enter, he asked them for money. Peter looked straight at him, as did John. Then Peter said, "Look at us" So the man gave them his attention, expecting to get something from them."
‍
WE SET THE TONE
1 Timothy 4:12 TPT "Simply be the example they need to see by being faithful and true in all that you do. Speak the truth and live a life of purity and authentic love as you remain strong in your faith."
WE ARE BETTER TOGETHER
Acts 2:42 TPT "Every believer was faithfully devoted to following the teachings of the apostles. Their hearts were mutually linked to one another."
‍
WE GIVE OF OUR TIME, TALENT, & TREASURE
Acts 2:44-45 "All the believers were in fellowship as one body, and they shared with one another whatever they had. Out of generosity they even sold their assets to distribute the proceeds to those who were in need among them.
‍
WE GO ABOVE AND BEYOND
Colossians 3:23 TPT "Put your heart and soul into every activity you do, as though you are doing it for the Lord himself and not merely for others."
‍
WE DO MORE BY DOING LESS
Luke 10:41-42 TPT "The Lord answered her, "Martha, my beloved Martha. Why are you upset and troubled, pulled away by all these many distractions? Are they really that important? Mary has discovered the one thing most important by choosing to sit at my feet. She is undistracted, and I won't take this privilege from her."
‍
WE ARE NEVER FINISHED
2 Peter 1:5-8 NIV "For this very reason, make every effort to add to your faith goodness; and to goodness, knowledge; and to knowledge, self-control; and to self-control, perseverance; and to perseverance, godliness; and to godliness, mutual affection; and to mutual affection, love. For if you possess these qualities in increasing measure, they will keep you from being ineffective and unproductive in your knowledge of our Lord Jesus Christ."
---
Our Beliefs
THE HOLY BIBLE
The Holy Bible is the authoritative Word of God. It alone is the final authority in determining all doctrinal truths. In its original writing, it is inspired, infallible, and inerrant. (II Timothy 3:16; II Peter 1:20-21; Proverbs 30:5; Romans 16:25- 26)
THE TRINITY
The Trinity is made up of one God - eternally existent in three persons: Father, Son and Holy Spirit. These three are coequal and co-eternal. (I John 5:7; Genesis 1:26; Matthew 3:16-17, 28:19; Luke 1:35; Isaiah 9:6; Hebrews 3:7-11)
JESUS CHRIST
Jesus Christ is God the Son - the second person of the Trinity. On earth Jesus was 100% God and 100% man. He is the only man ever to have lived a sinless life. He was born of a virgin, lived a sinless life, performed miracles, died on the cross for mankind, and thus atoned for our sins through the shedding of His blood. He rose from the dead on the third day according to the Scriptures, ascended to the right hand of the Father, and will return again in power and glory. (John 1:1,14, 20:28; I Timothy 3:16; Isaiah 9:6; Philippians 2:5-6; I Timothy 2:5) Man was created good and upright but by voluntary transgression, he fell; his only hope of REDEMPTION is in Jesus Christ, the Son of God. (Gen. 1:26-31, 3:1-7; Romans 5:12-21) We are saved by grace through faith in Jesus Christ - His death, burial, and resurrection. SALVATION is a gift from God - not a result of our good works or of any human efforts. (Ephesians 2:8-9; Galatians 2:16, 3:8; Titus 3:5; Romans 10:9- 10; Acts 16:31; Hebrews 9:22)
SANCTIFICATION
Sanctification is the ongoing process of yielding to God's Word and His Spirit in order to complete the development of Christ's character in us. It is through the present ministry of the Holy Spirit and the Word of God that the Christian is enabled to live a godly life. (I Thessalonians 4:3, 5:23; II Corinthians 3:18, 6:14-18, II Thessalonians 2:1- 3, Romans 8:29, 12:1-2, Hebrews 2:11)
THE BLOOD
The Blood that Jesus Christ shed on the cross of Calvary was sinless and is 100% sufficient to cleanse mankind of all sin. Jesus allowed Himself to be punished for both our sinfulness and our sins, enabling all those who believe to be free from the penalty of sin, which is death. (I John 1:7; Revelation 1:5, 5:9; Colossians 1:20; Romans 3:10-12, 23, 5:9; John 1:29)
BAPTISM IN THE HOLY SPIRIT
The Baptism in the Holy Spirit given at Pentecost, is the promise of the Father sent by Jesus after His Ascension; to empower the Church to preach the Gospel throughout the whole earth. (Joel 2:28-29; Matthew 3:11; Mark 16:17; Acts 1:5,2:1-4, 17, 38-39, 8:14-17, 10:38, 44-47, 11:15-17, 19:1-6) The Holy Spirit is manifested through a variety of spiritual gifts to build and sanctify the church, demonstrate the validity of the resurrection and confirm the power of the Gospel. The Bible listings of these gifts are not necessarily exhaustive and the gifts may occur in various combinations. All believers are commanded to earnestly desire the manifestation of the gifts in their lives. These GIFTS OF THE HOLY SPIRIT always operate in harmony with the Scriptures and should never be used in violation of Biblical parameters. (Hebrews 2:4; Romans 1:11,12 :4-8; Ephesians 4:16; II Timothy 1:5-16, 4:14; I Corinthians 12:1-31, 14:1-40; I Peter 4:10)
THE CHURCH
The Church is the Body of Christ, the habitation of God through the Spirit with divine appointments for the fulfillment of Jesus' great commission. Every person who is born of the Spirit is an integral part of the church as a member of the body of believers. There is a spiritual unity of all believers in our Lord Jesus Christ. (Ephesians 1:22, 2:19-22; Hebrews 12:23; John 17:11, 20-23)
TWO SACRAMENTS
Two Sacraments exist in scripture. Water Baptism follows faith in the Lord Jesus Christ. The new convert is commanded by the Word of God to be baptized in water in the name of the Father and of the Son and of the Holy Spirit. (Matthew 28:19; Acts 2:38) The Lord's Supper is a unique time of communion in the presence of God; when the elements of bread and grape juice (the Body and Blood of the Lord Jesus Christ) are taken in remembrance of Jesus' sacrifice on the cross. (Matthew 26:26-29; Mark 16:16; Acts 8:12, 36-38; 10:47-48; I Corinthians 10:16, 11:23-25)
HEALING OF THE SICK
Healing of the sick is illustrated in the life and ministry of Jesus and included in the commission of Jesus to His disciples. It is given as a sign which is to follow believers. It is also a part of Jesus' work on the cross and one of the gifts of the Spirit. (Psalm 103:2-3; Isaiah 53:5; Matthew 8:16-17; Mark 16:17-18; Acts 8:6-7; ames 5:14-16; I Corinthians 12:9, 28; Romans 11:29)
GOD'S WILL FOR PROVISION
God's Will for Provision is available for all believers. We believe God's desire is for believers to become whole, healthy and successful in all areas of life. However, because of the fall, many may not receive the full benefits of God's will while on Earth. The reality of that fact should never prevent all believers from seeking the full benefits of Christ's provision in order to better serve others. Spiritual, Mental, and Emotional (II Timothy 1:7, 2:11; Philippians 4:7-8; Romans 12:2; Isaiah 26:3)Physical (Isaiah 53:4,5; Matthew 8:17; I Peter 2:24) Financial (Joshua 1:8; Malachi 3:10-11; Luke 6:38; II Corinthians 9:6-10; Deuteronomy 28:1-14; Psalm 34:10, 84:11; Philippians 4:19) Jesus Christ was physically resurrected from the dead in a glorified body three days after His death on the cross. In addition, both the saved and the lost will be resurrected - they that are saved to the RESURRECTION of life and they that are lost to the resurrection of eternal damnation. (Luke 24:16, 36, 39; John 2:19-21, 20:26-28, 21:4; Acts 24:15; I Corinthians 15:42, 44; Philippians 1:21-23, 3:21)
HEAVEN
Heaven is the eternal dwelling place for all believers in the gospel of Jesus Christ. (Matthew 5:3, 12, 20, 6:20, 19:21, 25:34; John 17:24; II Corinthians 5:1; Hebrews 11:16; I Peter 1:4) After living one life on earth, the unbelievers will be judged by God and sent to HELL where they will be eternally tormented with the devil and the fallen angels. (Matthew 25:41; Mark 9:43-48; Hebrews 9:27; Revelation 14:9-11, 20:12-15, 21:8). Jesus Christ will physically and visibly return to earth for a SECOND COMING to establish His Kingdom. This will occur at a date undisclosed by the Scriptures. (Matthew 24:30, 26:63-64; Acts 1:9-11; I Thessalonians 4:15-17; II Thessalonians 1:7-8; Revelation 1:7)
---
Leadership Principles
Unity
Psalm 133 | Relationships will always supersede issues in importance. Unity will require us to focus on vision (purpose, mission and principles). The efforts of every individual will be harnessed to the vision. A team approach to ministry, problem solving and decision making and operating within the integrity of our structure will be the norm. All disagreements and offenses will be dealt with in a timely and biblical manner.
‍
Excellence
Matthew 5:16 | In every area of ministry and administration we will be standard bearers for the glory of God. Every individual and ministry will carry the spirit of excellence (not perfectionism), embracing the continuous effort to do better, and always striving for God's best.
‍
Humility
James 4:6 | The spirit of leadership will be the servant spirit. The higher a person's ascendancy in the organizational structure, the more their rights decrease and their responsibilities increase.
‍
Service
Ezekiel 44 | Administration will be the servant of ministry, not the master. Policies exist to enable ministry to function with effective and predictable results, not to hinder or quench kingdom work.
‍
Faith
Hebrews 11:6 | We will be decisive and proactive based on God's revealed direction and plans. Though we will guard against presumption, we will not be driven or hindered by fear based on circumstances or the unknown.
‍
Equity
Jeremiah 22:13-16 | We will be committed to justice and right treatment of all individuals. We will not show partiality to any individual or group, and will strive to remain above reproach in all dealings with people.
‍
Compassion
Philippians 4:5 | We will express an attitude and spirit of compassion and mercy balanced with truth, to all individuals. We will be outward focused, with a desire to reach the lost and to heal and restore the hurting.
Submission
Romans 13:1 | We embrace God's ultimate position of authority (Jesus is the Head of the Church) and God's plan for local delegated authority. We will adhere to the principles of submission to and honoring of authority at all levels of the organization and will operate within the integrity of our authority structure. We will allow appeal with a right spirit within our established protocol.
‍
Integrity
Philippians 2:15 | We uphold all biblical standards for conduct and reputation for personal, family, business, financial and community involvement for all individuals in the organization. We will strive to remain above reproach in all areas, realizing that we represent Christ to the world as His ambassadors.
‍
Generosity
2 Corinthians 9:6 | We will seek opportunities to generously share our resources and reproduce what God has produced in us and given to us.
‍
Kingdom Centered
1 Corinthians 12:14-27 | We will be committed to advancing the work of the Kingdom in the body of Christ at large by recognizing and supporting other churches and ministries that God gives us opportunity to co-labor with.
‍
Truth and Spirit Centered
John 1, 14, 16 | We are committed to being fully grounded in scriptural truth and fully empowered by the Holy Spirit. The Bible is our road map, and the Holy Spirit is our guide and empowerment to reach God's destiny for us as a church.
Have questions?
Click the button below to send us a message!